---
Designed and implemented with the environment in mind.  Enjoy better results the first time.
---
---
From Basement Waterproofing, to Rain Gardens, and finished off with Erosion Matting, we cover it all.
---
 FULL SERVICE MAINTENANCE
---
A complete and thorough turn key service will leave your neighbors scratching their heads.
 TOP DRESSING
---
Stagnant growth? Bumpy mow? Compost top dressing can reset the "playing field."
---
---
Natural rock, Versa Lok, or even Flagstone can add a new dimension to the landscape.
---
---
Flagstone patios with permeable, flexible seams create a new family gathering area for years to come.
SCHEDULE YOUR CONSULTATION TODAY
AND START ENJOYING YOUR OUTDOORS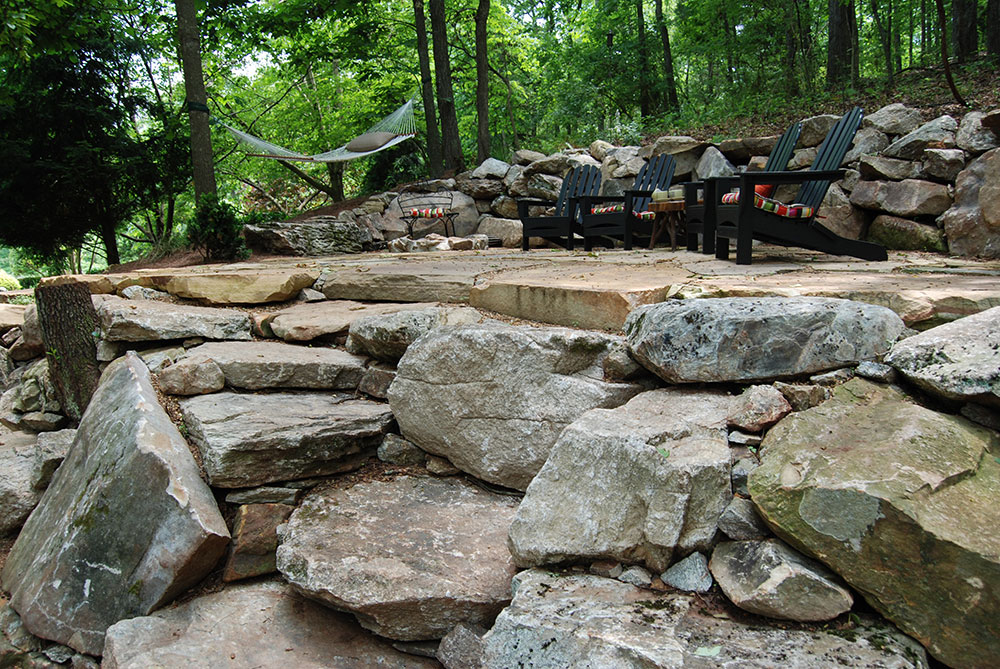 OUR LAWN CARE APPROACH
 Locally owned and operated, Outdoor Designs delivers a custom service – truly customized to your lawn, untouchable by the national companies.
There are no two lawns alike in our area.  Even lawns next door to each other need to be addressed as different properties.
Sometimes, the same lawn is going to require several different approaches at different times of the year to achieve high results.
We'll put in the time, the energy, and the research to get it there.  Endless phone calls, junk mail, and sales calls are not our agenda.  If we tried to sell you something every time we visited the property, we would be failing you as a professional.
Our focus is to communicate to you what is happening, how it's being addressed, and what to expect. We simply want to provide you with the best lawn possible. How do we do that? Of course it's our in field experience & technicians.
SERVICE AREAS
We Service The Following Areas:
EAST KNOXVILLE

HALLS

HOLSTON HILLS

DOWNTOWN

POWELL

BEARDEN

ROCKY HILL

LENOIR CITY

TELLICO VILLAGE

FARRAGUT

WEST KNOXVILLE

WEST HILLS
DON'T SEE YOUR AREA?
CONTACT US!
We Have the Experience
For over 20 years, Outdoor Designs has been performing high quality lawn care services in Knoxville, Farragut, Loudon, Lenoir City, Halls, West Hills, and East Knoxville. Drawing experience from all over the southeast, we were able to refine our own program designed for for the lawns in our area.
This is not a one size fits all type of lawn care.  
We provide truly custom programs for each and every one of our customers.  Whether you have a 1 acre lot, or a tiny front yard, we'll develop an affordable results driven campaign to bring out the best in your lawn.  We will work with all budgets and all size lawns as long as the end goal is to provide you the best lawn possible.
Our goal is to beautify all neighborhoods with high quality, high performing, top notch lawns. We aren't simply taking care of lawns; we're making beautiful communities with higher property values.
Expert and Certified Lawn Care Specialists
Our lawn care specialists are continually educated, tested and certified so that Outdoor Designs is always on the cutting edge of lawn care – products and techniques. Our technicians must complete rigorous yearly training, part of which includes maintaining a Tennessee Department of Agriculture Pesticide Applicator Certification.  We are members of the Tennessee Nursery and Landscape association.  The beautiful thing about our trade organizations is that they provide continual real world training.
Have you ever had a negative lawn care experience?  Did it relate to the fact that the technician wasn't completely aware of what was happening on the property?  Was there a different person on the lawn for every application?  That's what we want to put an end to – we put one technician on the same property month after month, year after year.  We want our technicians to build relationships. It's important that we put our best foot forward, and that begins with a knowledgeable, courteous, and friendly technician.
Call Outdoor Designs Now
When we visit your property, we will greet you with a smile and a handshake.  We will take the time to answer any questions or address any specific issues you may have.  If we do not know the answer to a question, we pledge to make every effort possible to find the most accurate information we can.  We will go the extra mile to make sure we're delivering the best results possible – soil tests, tissue samples, etc.  Whatever is necessary to fulfill our end of providing professionally maintained lawns and landscapes.  We will communicate to you, the customer, what we're seeing in the lawn.  We'll communicate what we're doing to the lawn.  We'll communicate what to expect, and if there's anything we need you to do.  We will maintain an open line of communication, and encourage you to reach out to us with any question pertaining to your lawn, no matter how seemingly simple it may be.  It's important that you feel comfortable every step of the way.  We provide untouched, unmatched lawn care services in Knoxville and surrounding areas! With our lawn care and outdoor services you can guarantee you're in great hands.  Find out what your neighbors already know – how to start enjoying your outdoors!